Melania Trump's Inaugural Ball Gown: The new FLOTUS stuns in off-the-shoulder gown she helped design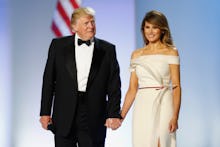 "Can she top that Ralph Lauren suit?" CNN asked in the minutes leading up to Melania Trump's first inaugural ball as first lady of the United States.
And it seems, upon first glance, she just may have. Mrs. Trump turned heads in a vanilla crepe off-the-shoulder gown, complete with a red silk ribbon, designed as a collaboration between herself and French-born designer Hervé Pierre (former creative director of Carolina Herrera). 
"It's an honor to dress the First Lady," Pierre said in a statement to Women's Wear Daily. "I was actually lucky because over my 20 years in the U.S., I dressed all the first ladies: Mrs. Clinton at Oscar [de la Renta], Mrs. Bush and Mrs. Obama at Caroline Herrera. So I feel lucky and honored to dress Melania Trump, but this time under my name."
Earlier in the day, Trump wore a powder blue cashmere dress and jacket by iconic American designer Ralph Lauren with matching gloves and shoes. The look drew comparisons to Jackie Kennedy, who also wore blue to her husband's inauguration in 1961. 
Before her husband had even won the election, Melania Trump had drawn comparison to Kennedy: "She would be the most glamorous first lady since Jackie Kennedy," Roger Stone, a former political adviser to Donald Trump, told the Washington Post. 
Though it may at first glance seem like an unexpected decision, what with the President's campaign slogan being "Make America Great Again" and industry titans, namely Tom Ford, urging Mrs. Trump to wear American designers, she is not the first FLOTUS to opt for a non-American designer at the inaugural ball. 
In 2009 and 2013, Michelle Obama opted for Jason Wu, a Canadian designer originally from Taiwan.
However, prior to that, American designers were the norm. For George W. Bush's inauguration balls in 2001 and 2005, Laura Bush opted for Dallas-based designer Michael Faircloth and Oscar de la Renta, a Dominican-American designer, respectively. 
Hillary Clinton went for American designers as well, choosing Sarah Phillips of Arkansas for the 1993 ball and de la Renta in 1997. 
And now, after Inauguration Day 2017 is all said is done, it's clear that Trump is paving a fashion legacy of her own, one that involves not just elegance but an eye for design all her own.