This is every event going on Inauguration Weekend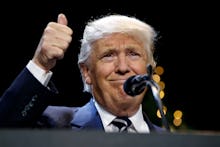 Are you ready for the "soft sensuality" and/or violent "wall of meat" of Donald Trump's inauguration?
Doesn't matter – ready or not, on Jan. 20, Trump will take the oath of office and become the 45th president of the United States, succeeding the man against whom he long propagated a racist conspiracy theory. 
Here's what will go down this inaugural weekend:
Thursday, Jan. 19
3:30 p.m. to 4:00 p.m.: Wreath-laying ceremony at Arlington National Cemetery.
4:00 p.m. to 6:00 p.m.: The Make America Great Again! welcome celebration, featuring a "diverse group of performers" including Toby Keith, Lee Greenwood and 3 Doors Down.
Friday, Jan. 20
11:30 a.m. to 12:30 p.m.: The Inaugural Swearing-in Ceremony. Trump will take the office at approximately noon and give his inaugural address, which he has been hard at work on.
3:00 p.m. to 5:00 p.m.: The Inaugural Parade down Pennsylvania Avenue. The parade will feature 8,000 participants. Marching bands and other organizations, including military and veterans groups and the Boy Scouts of America, will march. 
7:00 p.m. to 11:00 p.m.: The Inaugural Balls. There will be three balls – the Liberty Ball, the Freedom Ball and the Salute to Our Armed Services Ball – and the Trump and Pence families are expected to appear at each of them. 
Saturday, Jan. 21
10:00 a.m. to 11:00 a.m.: The National Prayer Service, an interfaith ceremony, will be held at Washington's National Cathedral. 
Inauguration protests
Throughout the weekend, groups opposing Trump will be protesting the inauguration.
Some, such as the ANSWER Coalition's #InaugurateTheResistance protest, will be held on Inauguration Day. But the largest, the Women's March on Washington, will be held Saturday.
There will also be anti-Trump concerts across the country, including a free show in Washington featuring Common and The National. 
Outside of Washington
Not all the protests will be in Washington. Demonstrators are expected to turn out to anti-Trump rallies across the country – and the world.
While the Women's March on Washington will be one of the most prominent D.C. events this weekend, there are more than 600 "sister marches" happening on Jan. 21 around the globe. An estimated 1.4 million people are expected to turn out for Women's Marches.
There will also be protests at Trump International Hotel in New York City (Jan. 19), Trump Tower in Chicago (Jan. 20) and Trump International Hotel in Las Vegas (Jan. 19).
Student walk-outs are also planned at schools across the country.
What will the Obamas be doing?
President Barack Obama will watch the man who for years questioned his citizenship get sworn in. Then, at about 2:45 p.m., the Obamas will be choppered to Joint Base Andrews, where they'll take one last ride on Air Force One – to Palm Springs. There's no word on what the Obamas will do when they arrive in California, but the president has discussed indulging in some well-deserved leisure time and spending time with Michelle.
"I'm not setting my alarm," Obama said on 60 Minutes recently. "That, I'm certain of."