'Suits' Season 6 Preview: What to know before the midseason premiere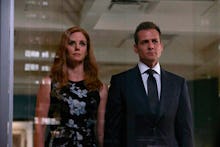 USA's hit legal drama, Suits, will return for the latter part of season six on Wednesday, Jan. 25 at 10 p.m. Eastern. The sixth season of the series premiered over the summer, and found Mike Ross in prison after pleading guilty to fraud in the season five finale. For fans of the series, Mike's imprisonment was a long time coming. 
Mike's secret (though not very well kept) throughout the first five seasons was that he never went to law school, let alone Harvard, and had been operating for some time as an attorney under fraudulent circumstances. This was a plot line that could only continue for so long, and series creator Aaron Korsh moved the drama in a compelling new direction by upending Mike's life. 
What was so great about the narrative was being sent to prison not only affected Mike, but rather, had a profound impact on his friends and colleagues — essentially his family. This led to some truly dramatic moments. His fiancée, Rachel, was devastated, while Harvey Specter, Jessica Pearson and Louis Litt were left with a firm on the brink of collapse. 
This set up what will perhaps be the most interesting season of Suits yet. So, before the series returns on Jan. 25, let's discuss where things left off. 
(Editor's Note: Spoilers ahead for the first part of Suits' sixth season.)
How did Mike adjust to life in prison?
As previously noted, season six began with Mike Ross in prison, while Harvey, Jessica and Louis were fighting to save their firm. The revelation that Pearson Specter Litt had employed a convicted fraud, led to associates and partners abandoning ship, while clients began to seek new legal counsel.
Suits packed several storylines, quite effectively, into the first part of the season, including Rachel's work to free a death-row inmate, Harvey's plot to get Mike out of prison (legally, this isn't Prison Break) and Louis Litt falling in love (he gets engaged!). Of course, the most compelling arc was Mike's time in prison, as his new surroundings presented a set of challenges that cannot be simply solved with an eidetic memory. 
While Mike has always come off as someone who can take care of himself, he quickly learns that life in prison is no picnic. This is especially true since Frank Gallo, a fellow inmate with an ax to grind, targets Mike due to his relationship with Harvey. As it turns out, Harvey played a prominent role in sending Gallo to prison back when the former worked at the district attorney's office. 
When Harvey learns that Gallo is gunning for Mike, he enlists SEC attorney Sean Cahill's help in getting Mike out of prison. He agrees since Mike's cellmate is the son-in-law of a stock trader that Cahill has been trying to put away for quite some time. So, Mike is offered a deal: inform on his cellmate in exchange for his early release. 
Of course, it is not terribly surprising that Mike, who refused to testify against Harvey in his fraud case, did not want to snitch on his cellmate. He eventually changes his tune, though, when Harvey and Cahill conspire to get Mike out of prison for a night alone with Rachel. And this is only the first of several times Harvey and Cahill cross the line (legally) in pursuit of their goals. 
In the end, everything works out, with Mike not only getting his freedom, but also leveraging his position to see the early release of his cellmate, Kevin, who was a staunch ally of Mike's in prison. 
Still, things are not going to be easy for Mike or the law firm come the season six midseason premiere.
Pearson Specter Litt is left in further shambles
In the latter moments of the midseason finale, Jessica Pearson resigns as managing partner of the firm. This was quite the shocking twist from a woman who had, for the better part of five seasons, placed her firm above all other aspects of her life. And that is precisely why she had to leave. 
Jessica spends much of the first half of the season trying to rebuild her firm following Mike's fraud case. She also plays a key role in Rachel's death-row case, eventually succeeding in overturning the prisoner's conviction, setting him free after years of false imprisonment. 
Perhaps this experience put certain things into perspective for Jessica, and she ends up moving to Chicago with Jeff Malone to start a new life. This leaves the firm in the hands of Harvey and Louis, who have not always been on the same page. Their inevitable power struggle is just one of many things to look forward to when the show returns.
A preview of the second half of season six
There will be plenty of drama when Suits returns, with several promising story arcs on the horizon. While Mike is now free from prison, his life remains fairly complicated. He is desperate to help people, but must learn to do so without being a lawyer. He must also decide whether he should accept an offer from Harvey to join the firm as a consultant — it's a convenient loophole. 
There is also the matter of who will run the law firm now that Jessica has left. The smart money is obviously on Harvey, but one would have to assume Louis will try to prove his worth as well. Louis has always been one of the more emotional, and thus fun, characters on the show, a fact which often gets him in trouble. He began to show some growth in the early parts of season six, placing the firm, and Mike's safety in prison, often at the forefront. It will be interesting to see if this continues. 
Someone we have not yet talked about, Donna, will surely play a large role in the future of the new firm. Harvey has always relied on Donna more than anyone else, and she will likely have her hands full in the coming episodes.
Synopsis and promo
If you are not yet convinced that the second half of Suits season six is poised for greatness, check out the synopsis and promo below:
As Harvey Specter (Gabriel Macht) and Louis Litt (Rick Hoffman) duke it out for the top spot at Pearson Specter Litt, Mike Ross (Patrick J. Adams) considers his options as a free man. Will he take mentor Harvey up on his consultancy offer and return to the prolific Manhattan firm?  Meanwhile, Donna Paulsen (Sarah Rafferty) plays office peacekeeper, and Rachel Zane (Meghan Markle) considers her options for life after law school.
Suits returns with season six, episode 11 on Wednesday, Jan. 25 at 10 p.m. Eastern on USA.