Gorillaz return with a new music video taking on Donald Trump from Trump Tower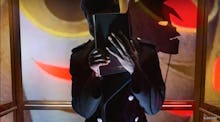 Six years after their last album — 2010's Plastic Beach — Gorillaz have returned with brand new music: a song called "Hallelujah Money," which takes aim at President-elect Donald Trump. 
The track, featuring Benjamin Clementine, is the lead single off their untitled new record due out later this year. Gorillaz unveiled the song on Thursday, and with Trump's inauguration taking place Friday, Jan. 20, the band has a message for him, which they shared in a tweet alongside a link to the song's music video: "Dark times - u need someone to look up to."
The music video is set in Trump Tower and is a statement about Trump's presidency, his politics and how society will move forward with commentary on the current state of politics in the world. 
Clementine rides the elevator in Trump Tower with striking visuals set behind him on the track, while powerful lyrics like "until we say so, nothing will move," guide the video along.