ESPN commentator under fire for alleged racist comment toward Venus Williams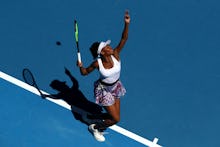 ESPN commentator Doug Adler is under fire for using questionable terms to describe Venus William's winning second-round match at the Australian Open on Tuesday. 
"She misses a first serve and Venus is all over her," Adler said of Williams' opponent, Stefanie Voegele, according to Fox News. "You see Venus move in [and] put the gorilla effect on. Charging."
Twitter immediately lit up, nailing Adler for apparently comparing the tennis star to a gorilla, an analogy that bears a long history of racial implications. 
Other Twitter users contended Adler meant "guerilla" rather than "gorilla," likening Williams' tennis technique to a strategy of war.
It's easy to understand why people would immediately assume he said "gorilla," though, given the recent spate of individuals who've gotten in trouble for doing exactly that.
Following the presidential election, Pamela Ramsey Taylor, director of West Virginia nonprofit agency Clay County Development, was fired after she called first lady Michelle Obama an "ape in heels." Clay Mayor Beverly Whaling endorsed the racist message, commenting on the post: "Just made my day, Pam."
A month prior, a teacher's aide in Georgia lost her job after directing the same kind of racist abuse toward the first lady, repeatedly calling her a gorilla on Facebook.
The stellar careers of Williams and her sister, Serena Williams, have long been plagued by the ignorance of racist tennis fans. Both sisters have boycotted the Indian Wells Masters Series Tennis Tournament after participating in the event in 2001, during which the crowd reportedly erupted in boos and taunts when Venus pulled out of her match against Serena at the last minute.
"When Venus and I were walking down the stairs to our seats, people kept calling me 'nigger,'" Richard Williams, Venus and Serena's father, told USA Today. "One guy said, 'I wish it was '75; we'd skin you alive.' ... I had trouble holding back tears. I think Indian Wells disgraced America."
In her book Citizen, author Claudia Rankine explored the broader meaning behind the racism and misogyny faced by the Williams sisters on and off the court.
"What does a victorious or defeated black woman's body in a historically white space look like?" Rankine asked. "Serena and her big sister Venus Williams brought to mind Zora Neale Hurston's 'I feel most colored when I am thrown against a white sharp background.'"
As NPR put it, Rankine's book considers what happens when "black bodies" are described "in white words." Whether Adler said "gorilla" or "guerilla," that's what happened Tuesday.