Super Bowl drinking game for people who hate watching football but have to sit through it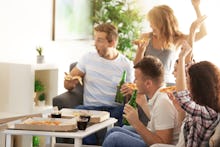 It's the biggest NFL game of the year! Do you care? No! Have you gotten roped into watching grown men tackle each other on a field for the next few hours? How unfortunate. 
Hopefully, there's a good spread of wings and snacks to keep you occupied between commercials and before Lady Gaga's halftime performance, but just in case you're considering tearing your eyes out every time you hear someone exclaim something like "second down punt!' (don't ask, we don't know either), we've created this fun drinking game for you to make the most of the Super Bowl. Good luck loving football!
First quarter: This is just the beginning.
Beverage: Wine 
Try: Epicurious Cabernet Sauvignon or Chardonnay, both of which are designed to pair with food and are ridiculously easy to drink. That way you can stuff your face and sip along with the game. 
• Drink when you hear a football term you don't understand.
• Drink when you hear the word play call.
• Drink when you wish you said you were sick tonight and remember you could have stayed in bed and watched literally anything else.
• Drink when you see your favorite snack being quickly depleted — hands off the buffalo wings, actual football tolerators. You need those for moral support! 
Second quarter: Okay, one quarter down, you've got this.
Beverage: Cider
Try: Wölffer No. 139 Dry Rosé Cider, which is just sweet and pink enough to gulp down when you realize it's going to be a very long night.
• Drink when someone kicks a field goal. (This is the easiest part of football to understand! You're into it!)
• Drink when you find yourself rooting for a certain team. (Did you even know who was playing before this?)
• Drink when you feel anxious about the commercial breaks taking too long, and you just want to get back to the game.
• Drink when you see a celebrity or someone you recognize in the stadium crowd. It could be worse — you could be at the actual game! 
Halftime
You made it halfway through! That is, if there's no overtime. (Don't worry; that has literally never happened, though 2016's game was close...trivia!). Celebrate with a cold glass of water. You deserve it. And you'll need it when there's no halftime to look forward to come third quarter.
Third quarter: Once this is over, you'll have made it through 75% of the game.
Beverage: Beer
Try: Shiner Cold-Brew Coffee Ale, which will keep you awake through the rest of this nonsense, or Sam Adams Rebel Juiced IPA, an inexpensive mango-flavored beer that feels fancy. Even if you're drinking from the can, you deserve this. 
• Drink every time the clock stops.
• Drink every time there's a slow-motion replay on TV. Seriously? Didn't we just see that?
• Drink when you think a commercial break is unnecessary, and they should just get on with the game.
• Drink anytime someone asks what quarter it is. (There's still another quarter of this left.) 
• Drink when you find yourself googling the rules of football.
• Drink when you see a "fan" take a break from game-watching to scroll on Instagram or check Snapchat.
Fourth quarter: You've got this!
Beverage: Tequila
Try: Whatever your favorite tequila is — in a shot glass, on the rocks, whatever. Go rogue and drink out of the bottle. It's the last quarter! If you want something a little more, um, cocktail-like, go for Jose Cuervo's ready-to-drink margarita. 
• Drink when you consider moving abroad, where no one cares about American football, and a different time zone makes this game almost impossible to watch live. 
• Drink when decide you're going to have to call out sick tomorrow because you'll definitely be painfully hungover.
• Drink when you try to convince your group that ordering another pizza for the final quarter is necessary.
• Finish all your beverages when the game is over! You won. Touchdown! 
Bye football, see you never!