What is a 'workation'? This hot new travel trend might be the saddest sign of our times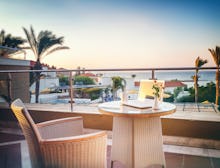 There's really nothing like kicking back on the beach, Mai Tai in hand, and knocking out a few expense reports, is there?
Not sure you agree?
Well, in yet another sign that today's culture is making work-life balance a relic of the past, Bloomberg reports that the latest hot travel trend is the "workation."
As the name implies, a workation is the troubling — but apparently increasingly common — practice of spending hundreds or even thousands of dollars to go to a resort... and work all day.
While some of the organizations in the Bloomberg report appear to cater to corporate retreats — it is, after all, a lot easier to justify working in a resort if your boss is picking up the tab — some of them appear to cater to individuals. 
For example, if you've got airfare to Thailand to burn, an additional $1,295 will get you accommodations and access to a beachfront workspace through Digital Outposts, which offers "brand-new facilities including a 50 Mbps dedicated high-speed Internet connection with a redundant 50 Mbps backup."
Sounds like a blast! 
Digital Nomads offers similar service to remote workers and conventional employees alike for $790, although you'll have to share a room. Under their service, you can post up in places like Costa Rica and Colombia, with some meals included.
The website also notes that they'll even "provide SIM cards if you'd like data on the move too." Helpful! 
There's obviously nothing wrong with working remotely in nicer digs, especially if you can afford it. But the fact that workers are so strapped for vacation time that the "workation" might be an appealing compromise? That's a sad and frankly disturbing sign of our times.
Research has shown that while virtually every manager says they encourage their employees to take time off, most employees report getting mixed or outright negative signals about whether taking vacation is okay or not.
Plus, the U.S. is one of the few weathy countries that doesn't require paid time off — which might be one reason why hundreds of millions of vacation days go unused every year.
No surprise that Americans are increasingly overworked and unhappy.
Overworked employees are nothing to snark at: Additional studies have suggested that overwork can lead to declining productivity and even health problems.
So if you have vacation days? Use them — and leave your laptop at home.
If you don't: Find a job with better work-life balance.
Sign up for The Payoff — your weekly crash course on how to live your best financial life.