Why a queer dance party was the best way to protest Mike Pence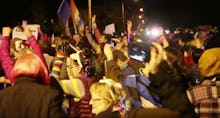 On Wednesday night, in the face of the upcoming Donald Trump presidency, queer people danced.
Werk for Peace, in conjunction with DisruptJ20, organized a dance party to welcome Vice President-elect Mike Pence, who has an egregious rap sheet of anti-LGBTQ offenses, to his new posh Washington, D.C., neighborhood with a whole lot of twerking and gyrating. 
In an earlier phone interview with Mic, dance party organizer Firas Nasr said the party was part of his organization's work to take "our bodies out of the private into the public, using the street as our dance floor to claim space, occupy space to assert we are here and we will dance." 
For queer people, dancing is both of-the-moment and historical. While those at the queer dance party may experience fear or anxiety for the future of the country, as many queer people do, dancing celebrates what the body can do here and now. That protesters chose to dip it low for "daddy Mike Pence" in front of his house as a display of resistance is not a coincidence. 
The dance floor has also long served as a communal space of grief, exuberance and resistance in LGBTQ history. The fight for LGBTQ civil rights started in earnest in 1969 at Stonewall, a gay bar filled with transgender women of color and gender nonconforming folks. That is to say, our expression of identity and fight for equal rights often begins on the dance floor. 
In an essay for the New York Times, artist Quito Ziegler wrote: 
Queer people everywhere work it out every weekend, together, on dance floors, defiantly. Even the most repressive societies in the world can't shut down my people's need to dance, our need to convert rage into furious motion, the liberation that comes from collective resistance.
Queer people have faced times of mass government neglect before. During the AIDS crisis in the 1980s and 1990s, nightlife became a focal point of AIDS activism and resistance. Recently, historians and artists have begun to revisit the history of nightlife as AIDS activism with gallery shows like "Party Out of Bounds: Nightlife as Activism Since 1980," which showcased art that captured the sights and sounds of underground New York. 
Communities of color relied on club spaces for organizing. In his 2015 case study "At the Club: Locating Early Black Gay AIDS Activism in Washington, D.C.," Daris Bost, assistant professor of sexuality studies at San Francisco State University, documented how members of the early 1980s black gay nightlife in Washington, D.C., responded to the AIDS crisis when public health officials neglected to reach out to them. In the study, Bost recounted the use of ClubHouse nightclub, frequented mostly by black gay men, as the site of a 1983 forum to reach out to this forgotten population.
In his essay "Revolutions Per Minute," Edwin Ramoran, manager of public programs and community engagement at the Studio Museum in Harlem, New York, wrote that "dance clubs, with their ability to bring together people of diverse racial, class and sexual backgrounds, embody utopian ideals of unity and coalition." 
"In many ways, the communal spaces of discos, nightclubs, bars and sex clubs can be regarded as sites of resistance and freedom," he wrote. 
In May, Mic's series The Movement captured how those communities that continue to be most affected by the ongoing HIV/AIDS epidemic, queer youth of color, continue to organize, resist and dance in New York City's ballroom scene. 
Very little concrete evidence exists to show what the next four years of being queer in America will look like. Our only clues are the prior actions and statements of Trump's incoming administration. Seeming conversion therapy advocates like potential Education Secretary Betsy DeVos will be working with Pence, who has advocated for federal money to be spent on the controversial practice rather than on HIV prevention. 
HIV-positive and queer Americans worry about their future under a Trump administration. The potential loss of the Affordable Care Act may put care out of reach for many in LGBTQ communities. Cutting federal housing subsidies may mean homelessness. The potential expansion of the criminal justice system may find even more queer people of color behind bars. Current statistics show that, if the United States doesn't get better at fighting HIV, half of gay black men and a quarter of gay Latino men will become HIV-positive. 
The queer dance party at Pence's house may not seem like a typical act of resistance — yet protest does not always involve holding signs or blocking roadways. For queer people, celebrating the movement of our bodies is resistance itself. If there is a gay gene, it's probably one that expresses itself through dance. In these moments, each individual shows their own ability to embrace life, and when we dance as a collective, we resist the structures that seek to oppress us. 
As the party's organizer told Mic, "Oftentimes, when we think about protest, it ends up staying in the political sphere, and we forget about our physical bodies and the actual movement our physical bodies can create and what that means for a movement."