People in 57 countries now plan to participate in Women's March sister protests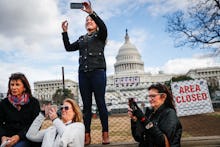 The Women's March on Washington, D.C., initially had its sights set on galvanizing a nation, but a new report from its organizers claims it's now inspired enough interest to span the globe.
In a Jan. 17 press release, the event's leaders state that in addition to the "sister marches" planned to take place in all 50 of the United States, "57 countries on six continents" have also planned events mirroring the one taking place on Saturday in Washington.
The report says that if online RSVPs are to be believed, the number of participants worldwide stands to surpass 1 million.
"This grassroots movement has gone viral in an unprecedented way that no one could have anticipated." sister march spokeswoman Yordanos Eyoel said in the report. "It's inspiring to see how women and their allies around the world are standing up for the universal American values of freedom and justice for all." 
The march began as a grassroots movement, originally dreamt up by Hawaiian native and grandmother Teresa Shook as a means for women to share outrage over Donald Trump's election. 
Since the movement went viral, march organizers have released an official policy platform, which includes equal pay for equal work, ending racial and gender discrimination in the criminal justice system and increasing access to safe, legal abortions and birth control for all people.  
The now-global movement has inspired U.S.-centric offshoots — like the one planned in Rio de Janeiro, Brazil, whose Facebook page welcomes "American Ex-Pats and Other Interested Parties" — as well as marches that will focus specifically on the feminist interest of their host countries.
A Facebook page for a sister march planned in Nairobi, Kenya, for example, declares that participants will organize to demand "reproductive rights, women's land and inheritance rights, and the implementation of the 2/3 rule."
We will march to end sexual harassment and assault, female genital mutilation, and the trafficking of women and children; and to end discrimination against LGBTQ people, sex workers, disabled women, HIV positive women, refugee women, women in the informal sector and other marginalized groups. 
In Sydney, Australia, march organizers proclaim that they will assemble "in support of those who feel marginalized, angered and concerned by recent political outcomes in the United States, Australia, and elsewhere."
As march leaders in Washington prepare for an event poised to become one of the largest demonstrations in American history, the rate of global participation has only reaffirmed the reason for the march's existence. 
"The momentum is building around the world," said Bob Bland, a co-founder and co-chair of the event. "Our vision of a transformative, women-led grassroots movement to stand up for justice and equity is coming true — it's an incredible moment in history."