When is 'Super Mario Run' coming out for Android? Release date confirmed for March 2017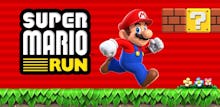 One of the most sought-out pieces of information about the popular mobile game Super Mario Run for months has been its Android release date. After all, plenty of people favor Google's mobile operating system over Apple's ecosystem for one reason or another, and they shouldn't be left out of Mario's Mushroom Kingdom antics.
Super Mario Run Android release date revealed
Thanks to Nintendo's Twitter account, we finally have confirmation: Super Mario Run will launch on Android in March, roughly three months after its iOS launch. 
The Google Play Store doesn't currently list a price, but since the product description is exactly the same as it is on iOS, it's safe to assume it will bear the same $10 cost to get the full game on Android. 
Somewhat frustratingly, there isn't an exact date given in the news release. We'll let you know in the coming weeks when Nintendo reveals an exact release date for the Android version. It will only be the second-biggest Nintendo release in the month of March, though.
More Super Mario Run news, updates, tips and tricks
Can't get enough of Mario, Peach, Bowser and the rest of the Mushroom Kingdom? Check out Mic's coverage of Super Mario Run, including how to unlock new characters like Toad, Peach and Yoshi; how to get different-colored Toads to come back to the kingdom; how to find the game's secret levels; how to play the game on your Apple TV; our coverage for the Android release date and some knockoff versions to tide you over until it drops; as well as some cheats for the new game if our guides aren't enough — we won't tell anyone if you don't!