Oscars 2017: Viola Davis just became the first black actress to earn 3 Oscar nominations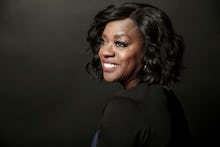 Tuesday morning, Viola Davis made history. For her performance in Fences, she became the first black actress to earn three Oscar nominations. 
Davis earned her third Oscar nomination for her work in the August Wilson adaptation of the play, for which she won a Tony Award in 2010. This monumental feat came after two previous nominations for the actress: in 2009 for her performance in Doubt and in 2012 for The Help.
Davis was previously tied with Whoopi Goldberg for the most nominations for a black actress. Goldberg was nominated in 1986 for The Color Purple and in 1991 for Ghost. She won the Oscar for the latter. 
Davis won the Golden Globe for her performance in the Denzel Washington-directed Fences earlier this month, delivering a moving acceptance speech: 
If all goes as expected, Viola Davis is a lock to finally win best supporting actress at this year's Oscars. Even more exciting: Considering her Tony and her Emmy, she'll be one Grammy away from halcyon EGOT status.