Will Ivanka Trump be at the inauguration? Here's what we know.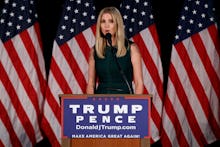 Ivanka Trump, daughter of President-elect Donald Trump and one of his unofficial advisers, has arrived in Washington, D.C. ahead of her father's inauguration Friday.
Ivanka — whose husband, Jared Kushner, was recently tapped to be a senior advisor to the incoming president — is expected to have an unusually influential role in her father's administration. Some have even speculated she will effectively serve as unofficial first lady, something Ivanka herself has called an "inappropriate observation." 
She reportedly received rabbinical clearance to travel by car on Inauguration Day Friday; Kushner and Ivanka are Jewish, and traveling by car on Friday evenings or Saturdays is considered by some to be a violation of the Sabbath. The couple may also attend Shabbat events over the weekend.
Donald Trump has said the entire Trump clan will stay with him on his first night at the White House, according to ABC.
On Jan. 11, Ivanka announced she was stepping down from both her role within the Trump Organization and her fashion brands. 
"I will no longer be involved with the management or operations of either company," she wrote.
Ivanka has previously said she would like to fight for issues such as wage equality, child care and education during her father's presidency, but "not in a formal administrative capacity."