Nintendo Switch Games List: '1001 Spikes' and 'Cave Story' seemingly confirmed by Nicalis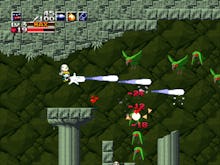 Sure, Nintendo Switch is getting big first party games like The Legend of Zelda: Breath of the Wild, Splatoon 2 and Super Mario Odyssey by the end of 2017, but what about third-party support? That's where every Nintendo console since the SNES has fallen apart.
While there's no reason to believe Switch will get Call of Duty and Grand Theft Auto-level games, all indications right now point to it being a pretty friendly platform for indie developers. One now-deleted tweet from a prominent indie publisher today further supports that claim.
Nintendo Switch Games: 1001 Spikes and Cave Story confirmed?
California-based indie games publisher Nicalis posted a now-deleted tweet which showed a Nintendo Switch in handheld mode with 1001 Spikes, Cave Story and The Binding of Isaac: Afterbirth+ installed on it. While the announcement of The Binding of Isaac for Switch was officially made last week, the other two games had not been confirmed for Switch until this tweet was posted.
1001 Spikes is a brutally difficult (and addictive) sidescrolling retro-style game where you run and jump your way through a series of perilous ruins. It has the same spawn-die-spawn-again flow of games like Super Meat Boy, which means you want to scream at the TV and keep playing at the same time. 
Cave Story, on the other hand, is a classic Metroid-esque action-adventure game that originally launched in 2004. It's received a series of updates and enhancements over the years; it's unclear which version is coming to Switch right now. 
Mic has reached out to Nicalis for comment on the deleted tweet. We will update this story as soon as more information is available.
More Nintendo Switch news
For more info on what Nintendo revealed during its Switch presentation, here's where you can get details on the console's price, release date, preorders and battery life. If you're interested in the Nintendo Switch's games, here's info on the new Super Mario Odyssey game, Legend of Zelda: Breath of the Wild, Splatoon 2, Xenoblade Chronicles 2, 1-2-Switch and the goofy boxing game Arms.