Who are Bikers for Trump? 5,000 expected to attend inauguration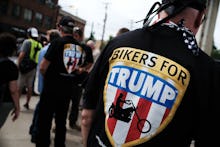 The Bikers for Trump organization began as a biker-led effort to elect Donald Trump during the 2016 campaign season. The group is back in the headlines after receiving a shout-out from the president-elect on Twitter.
WTOP, a news radio station based in Washington, D.C., confirmed the bikers will have a "prime spot" near the parade route, with events both on Friday and during the Women's March on Saturday.
Chris Cox, the group's leader, alarmed potential protesters when he expressed views that seemed to signal an intention to interfere with the free speech rights of protesters and insinuated protesters could become violent during an appearance on Fox News:
In the event that we are needed, we will certainly form a wall of meat. [...] We'll be shoulder-to-shoulder with our brothers and we'll be toe-to-toe with anyone that is going to break through any police barriers, that's going to be assaulting women, spitting on them, throwing things at them.
This language is markedly different from the Bikers for Trump mission statement, which includes the following:
Bikers for Trump™ believes in the first amendment of the United States and believes in the People's peaceful right to demonstrate and protest, however we denounce protesters being paid and provided untruthful propaganda and encourage bikers from around the United States to attend Bikers for Trump™ rallies in a peaceful manner.
During his WTOP interview, which occured after the statement to Fox News, Cox reiterated his support for dissent. "We certainly believe in everyone's right to express their opinions," he told the station.
While various outlets are reporting an expected 5,000 or more bikers based on the Fox News interview with the group's founder, neither the group's website or Facebook page uses the number.
However, SFGate stated in a Monday report that the group "will hold what is likely to be the largest pro-Trump rally put on by a private organization during the same time as the inauguration."
As of this writing, the Bikers for Trump Facebook page has more than 220,000 likes.