Virginia Marijuana Decriminalization: What's being proposed and how it could affect you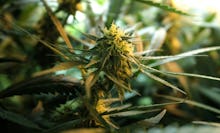 Politically, Virginia has come to be viewed as somewhat "purple," a mixture of southern conservatism and liberalizing suburbs, and weed activists now see it at the tipping point for legal marijuana.
But could it go green? Probably not all at once. 
The Arlington County Civic Federation, made up of more than 80 community groups based in one of the state's most left-leaning regions, did approve a pro-medical marijuana resolution by a vote of 50 to 1 at the very beginning of 2017, indicating that it has become a priority. The organization claimed that 86% of Virginians support medical pot, while a 2016 poll released by Virginia Commonwealth University found that 62% of respondents "strongly or somewhat agreed that recreational use of marijuana should be legalized."
That same poll, however, revealed what is perhaps the citizenry's true focus when it comes to marijuana: decriminalization. 
Seventy-eight percent "favored reducing the penalty for possessing small amounts of marijuana to a $100 fine instead of a misdemeanor conviction," and many expressed the need for criminal justice reform, especially at the juvenile level. 
Now Virginia's legislators are pushing that exact agenda. Sen. Ryan T. McDougle (R-Va.) has introduced SB 796, a bill that seeks to allay the damage done to anyone caught with weed under the age of 21. Here's a brief summary of what it would do:
Expungement of certain charges and convictions. Allows a person to petition for expungement of convictions and deferred disposition dismissals for marijuana possession, underage alcohol possession, and using a false ID to obtain alcohol when the offense occurred prior to the person's twenty-first birthday; all court costs, fines, and restitution have been paid; and five years have elapsed since the date of completion of all terms of sentencing and probation.
Another bill introduced by Sen. Adam P. Ebbin (D-Va.) goes much further. SB 1269 nixes the misdemeanor charge for simple marijuana possession; no arrest, no jail time, no criminal record.  
Marijuana; decriminalization of simple marijuana possession. Decriminalizes simple marijuana possession and provides a civil penalty of no more than $100 for a first violation, $250 for a second violation, and $500 for a third or subsequent violation. Current law imposes a maximum fine of $500 and a maximum 30-day jail sentence for a first offense, and subsequent offenses are a Class 1 misdemeanor.
The legalization lobbying nonprofit NORML is urging Virginians to tell the state's Senate that they support this bill, noting that it's of vital importance to the African-American community, which saw a staggering 106% spike in possession arrests over a decade — from 4,991 in 2003 to 10,293 in 2014. "In 2013," they added, "African-Americans accounted for nearly half (47%) of possession arrests, but comprised only 20% of the state population."
The most interesting wrinkle in Virgina's drive toward legal pot may be the concurrent opioid crisis threatening the country at large. 
On one side, executive director of the Prevention Council of Roanoke County and chair of the Community Coalitions of Virginia Nancy Hans and others have argued that "to start to begin talking about legalizing marijuana just doesn't really make sense when we've got something already," referring to the trend of prescription drug addiction. 
Others point to data suggesting opioid use decreases in states with legal weed, which can be a helpful alternative to conventional painkillers. But the medicinal marijuana bill SB 1027, which is currently awaiting passage in the Virginia General Assembly, only approves the cultivation of cannabis oil for patients suffering from epilepsy, a condition that may not be as effectively treated with marijuana as once thought.
In short, Virginia is moving forward on weed — but at its own pace.
Correction: Jan. 20, 2017