What time will Donald Trump speak at the Inauguration on Friday? Here's what we know.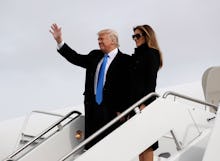 Donald Trump will be inaugurated as the 45th President of the United States at noon on Friday, Jan. 20. He will give his inaugural address immediately after.
Why is the president sworn in at noon on Jan. 20?
The ceremony takes place precisely at noon in order to illustrate the smooth transition of power from the outgoing commander in chief — in this case, President Barack Obama. In order to give the newly elected president time to establish an administration, the U.S. allows for 11 weeks to pass between the election and the inauguration. As the world braced itself for Trump, this lame-duck period has seemed like it would never end — but it used to be even longer. Presidents used to be sworn in as late as March 4, but in 1933, the 20th Amendment cemented the Jan. 20 date that is still used today.
What will Trump say? 
At this point, no one knows. As reported by CNN, two of Trump's transition officials said the president-elect would pen the speech himself. Trump tried to give this claim some legs on Wednesday when he tweeted a picture of himself holding a pen and paper and looking thoughtful — let's just say that backfired.