'Split' Reviews: M. Night Shyamalan thrills, though not without controversy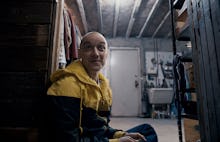 Director M. Night Shyamalan's latest film Split hits theaters Friday. It's the latest effort from the once-in-demand director of suspenseful thrillers to recapture his late-'90s, early-2000s glory.
From 2004 to 2013, nearly all of Shyamalan's films earned low scores on Rotten Tomatoes. In 2015, Shyamalan teamed with horror producer Jason Blum on The Visit, which carried a modest $5 million budget and earned nearly $100 million worldwide. The Visit became the best-reviewed Shyamalan film in years, though critical response was still not overwhelmingly positive. 
Blum and Shyamalan have teamed up once again on Split, a multiple-personality thriller. Based on early reviews, it appears the director is returning to form — though not without controversy.
While the reviews are mostly positive — as of this writing, Rotten Tomatoes has Split at a 77% — the film has been criticized for its portrayal of mental illness. The film's official synopsis places mental illness at the forefront of its narrative, and not in an enlightened way:
"While the mental divisions of those with dissociative identity disorder have long fascinated and eluded science, it is believed that some can also manifest unique physical attributes for each personality, a cognitive and physiological prism within a single being. Though Kevin (James McAvoy) has evidenced 23 personalities to his trusted psychiatrist, Dr. Fletcher (Betty Buckley), there remains one still submerged who is set to materialize and dominate all the others. Compelled to abduct three teenage girls led by the willful, observant Casey (Anya Taylor-Joy, The Witch), Kevin reaches a war for survival among all of those contained within him—as well as everyone around him—as the walls between his compartments shatter apart."
Bustle's Sage Young wrote that Split exacerbates the already harmful stigma of mental illness, stating, "But by taking the blame away from Kevin, it's put onto the illness instead."
Richard Lawson of Vanity Fair wrote that while the film is "a mostly engaging piece of hokum, a grim kidnapping tale that makes a silly hash of psychology," it does not shed a light on mental illness in a positive way. Lawson elaborated:
"Split is another entry in the dismayingly vast canon of stories that do a lot to demonize mental illness. Dissociative identity disorder is a controversial topic in psychiatric study, and not one understood with any scientific consensus. But Split treats it as certain and dangerous fact."
We've collected excerpts from reviews of the film — some positive, some negative based on the film's treatment of mental illness and some negative simply because of the movie's execution and lack of thrills. Read them all below.
Ignatiy Vishnevetsky, AV Club: 
"Split is funnier, campier, and more freewheeling than anything its writer-director has done — slightly overlong, but reminiscent of Brian De Palma films like The Fury and Femme Fatale in its refusal to be boring."
Brian Truitt, USA Today:
"McAvoy is superb in a taxing role. Having to play Kevin's various sides is a physical role where the Scottish actor proves himself a real chameleon. He fully inhabits each of the characters, sometimes changing accent, other times switching wardrobe, but McAvoy makes it clear they're all part of the same person and not someone wildly different — for example, Patricia is very much a woman but doesn't wear a wig to feminize Kevin's shaved head."
Peter Debruge, Variety: 
"A welcome return to form from 'The Sixth Sense' director M. Night Shyamalan, whose unhinged new mind-bender is a worthy extension of his early work."
Tirdad Derakhshani, Philadelphia Inquirer: 
"Split [is] a remarkably weird and wonderful exercise in psychological terror featuring a virtuoso performance by Scottish actor James McAvoy (X-Men) as a deranged killer named Kevin who is at turns terrifying, grotesque, pitiful, lovable, brilliant, confident, pathetic, happy, sad, mad and glad."
Jette Kernion, indieWIRE: 
"Split could have been an abduction thriller, a psychological drama or perhaps a twisted action film. Instead, its attempt to combine all these elements leads to an ending less satisfying than a dozen more McAvoy personalities."
Alan Scherstuhl, Village Voice: 
"There's a locked-room mystery going on inside Kevin's head. But Split shows too little of the individual selves for viewers to develop a stake in puzzling out who's up to what. McAvoy is impressive as he switches personalities, but never scary or moving; the script gives him many chances to exhibit virtuosity but too few for soulfulness."
Joshua Rothkopf, Time Out: 
"Split trots out many of Shyamalan's pet moves (it's amazing how well we know this filmmaker), including his tendency to infuse genre nonsense with the deeper trauma of child abuse. A lot of the picture works better in flashback, as we learn what made our young heroine so steely."
Split opens in theaters Friday. Watch the trailer for the film below.