Trump inauguration live online 2017: Watch the swearing in ceremony livestream here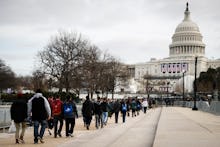 Can't make it to Washington, D.C., to watch Donald Trump's inauguration on Jan. 20? If you'd still like to watch him become the 45th president of the United States, you can catch the ceremony via livestream on a number of different websites.
Where and when to find livestreams
According to Vox, you can watch a livestream of the ceremony on the White House's website. In addition, a handful of news outlets have partnered with YouTube to bring you coverage as well, including:
- C-SPAN
NBC will also livestream the event on its website, its YouTube channel, and on Roku, AppleTV, and FireTV, Vulture reported. CBS' round-the-clock livestream site will cover the events of the inauguration, starting at 7 a.m. 
Twitter will livestream the inauguration from 11 a.m. to 5 p.m. You can watch it here.