This queer Muslim couple got married before Trump's inauguration to protect their family's rights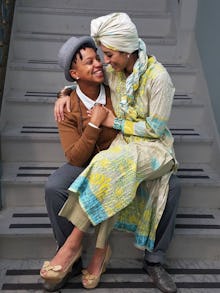 Laila Nur and Saba Taj are sending a powerful message of love — well, quite literally. They got married.
Nur, 29, and Taj, 30, who both identify as queer Muslims of color, exchanged their vows on Jan. 13 at a courthouse in Durham, North Carolina. The location and timing of their marriage is as significant as their direct and compelling message: They exist. They are valuable. They are loved. 
Their home state of North Carolina has been a battleground for LGBTQ rights. The most recent example is the infamous House Bill 2, which, among other discriminatory actions, said transgender people could only use bathrooms that corresponded with the gender they were assigned at birth.
With the historically homophobic Mike Pence as President Donald Trump's vice president and a Cabinet full of noted xenophobes and misogynists, Taj and Nur knew they had to get married before Trump assumed office. As an act of resistance, Nur and Taj gathered all the proper documentation for their marriage license.
"We decided to get those [marriage license] papers in order to be able to be there for each other in the future, in order to ensure that we could both be legally recognized as parents if we decide to become parents again. So that we can have more options for health care in case the Affordable Care Act is overturned," Taj told Mic in an email.
The couple didn't initially plan to get married due to their views of marriage as a "heteronormative practice rooted in a capitalist system," according to Taj. But after Trump's election, the couple didn't want to lose the little time they have left to become better prepared for what is yet to come in Trump's America.
"The reality of health care, reproductive rights and our civil rights being at risk really sunk in," Taj said. "Gay marriage has been legal in North Carolina for a very short time, and just like so many of us were caught off guard by Trump's win, we didn't want to be caught off guard again in case this right was stripped from us. "
Nur, an independent musician and community organizer, first met Taj, a visual artist and activist, in the fall of 2014 when they were performing and showing their work at a black-centered art exhibit. Nur said they were struggling with their Muslim identity and was captivated by Taj's artwork that centered Muslim women. 
"I was completely blown away by her work focused on Muslim women, especially because I was struggling with my Muslim identity then," Nur said. "I performed this song about my mother, called 'Umi,' which piqued her interests in my background. We were instantly inseparable."
Their legal marriage ceremony was intimate, with only four of their closest friends, or their "chosen family," accompanying them in the halls of the courthouse. But what they lacked in guests and extravagance, they more than made up for in love and simplicity.
"We got married in the courthouse of the city where we live, love, and resist," Taj said. "There's something really beautiful to me about simplicity, and this experience was simple and beautiful."
But now, as Trump is the 45th president, their love for each other, their families and communities will be channeled to resist the rising tide of white nationalism.
"America is facing the demons in the closet," Nur said. "The right-wing is unifying around their vision of a New Confederacy, what are we bringing to the table to fight that?"
Taj, with Nur's partnership, is ready to defy the obstacles expected to come their way.
"I am looking forward to the resistance," she said, noting how she's been connecting her art and activism to produce a medium of measurable change. "I am deeply dedicated to my city and state of North Carolina, and feel that it is possible to shift things here."
Their marriage, a symbol of a beautiful rebellion, is just their first way to resist.