Arcade Fire unveils the politically-minded "I Give You Power," their first song in 4 years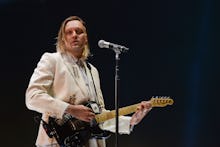 It's been nearly four years since Arcade Fire released Reflektor, arguably their most experimental and groove-centered record to date. Thursday, the band broke that dry spell by dropping "I Give You Power," a track that delves even deeper into the electronics-driven soul they began experimenting with on their last album. It's got a gospel-by-way-of-grime feel that's not only funky and soulful, but — perhaps even more significantly — pointed.
The track's release date and choice in features feel especially significant. Released exclusively on Tidal (available to members and nonmembers alike) Jan. 19 — the day before President-elect Donald Trump's inauguration — "I Give You Power" features renowned gospel singer and civil rights activist Mavis Staples. The band unveiled the song in a tweet, writing: "It's never been more important that we stick together & take care of each other."
The lyrics come with significant political undertones, subtly attempting to remind those in positions of power just who gave them that seat and who dictates how they wield it: "I give you power," the lyrics read, before they turn threatening: "I can take it away." 
The band also announced in a follow-up tweet that proceeds from their empowering and uplifting song will go to the American Civil Liberties Union, a group that offered a strongly worded statement to Donald Trump following his election win. 
They called many of his campaign promises "not simply un-American and wrong-headed" but "unlawful and unconstitutional," and they warned that, if he attempted to follow through with them, Trump would have to "contend with the full firepower of the ACLU at every step."
Stream the new track via Tidal here.