'Pokémon Go' Hack: 1.23.1 and 0.53.1 cheat doesn't require jailbreak, but it's still risky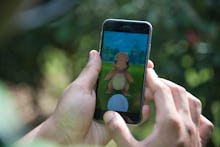 Pokémon Go hackers are always looking for an easier way to cheat, even if it means risking getting caught and banned from the game.
Niantic has taken a hard line against cheaters, including permanent bans for anyone violating the game's terms of service. When cheats that don't require jailbreaking become available for the latest Pokémon Go update, however, people may be tempted to use them.
Pokémon Go hack requires no jailbreaking but still takes work
The most intimidating aspect of Pokémon Go cheating for some players might be the necessity of jailbreaking your phone, considering the risk of damage to the device. So when a Pokémon Go cheat that doesn't require jailbreaking becomes available, there may be a group of would-be cheaters who feel empowered to give cheating a go.
Pokémon Go++ is the name of the software that makes the hack possible. The International Business Times has put together an extensive and thorough guide on how to use the no-jailbreak Pokémon Go++ cheat for Android and iOS devices. 
Android users need to have at least Android Kitkat v4.4.4 installed on their device, download a single app called Fly GPS and then mess with the phone's settings to activate the cheat. iOS users need a computer, the latest version of iTunes and a couple other downloads. The directions don't seem difficult to follow, which is what can make Pokémon Go++ so tempting.
Pokémon Go hack allows you to play the game without leaving your couch
Pokémon Go++ adds joystick support and feature enhancements among other things, but the main advantage of this Pokémon Go hack is something called "GPS spoofing."
GPS spoofing is the act of fooling software into thinking you are in another location than the one you're actually in. It is tantamount to teleporting across the local Pokémon Go map, which means spinning PokéStops and catching Pokémon without walking anywhere.
This could be very useful for anyone stuck inside during the winter months, but it still flies in the face of how Pokémon Go was designed. It's meant to get you out in the world and moving around, so it's no wonder that Niantic has taken a no-nonsense approach to cheaters that use these sort of hacks.
More Pokémon Go guides, tips, tricks and updates
Check out Mic's Pokémon Go tips and tricks. Here are guides on how to get stardust, how to determine how long it will take you to reach Level 40, the kind of Pokémon you get from 10km eggs, how to create new PokéStops, how to maximize your chances of catching Pokémon and how PokéStops distribute Pokémon eggs. Also check out how to catch Gen 2 baby Pokémon, our analysis of post-balance update Chansey and Rhydon and everything you need to know about finding the long-awaited Pokémon Ditto.