Obama Pardons: Here's a list of all the people Obama pardoned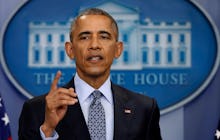 On Jan. 19, then-President Barack Obama commuted the sentences of 330 federal inmates who were convicted of drug crimes. As a result, Obama increased the total number of commutations to 1,715 individuals during his presidency, including 568 people who have been sentenced to life in prison. 
Though CNN once declared him one of the "least merciful presidents" in U.S. history, Obama granted more commutations than any president and has surpassed the number of commutations granted by the past 13 presidents combined, the White House reported.  
Obama also granted a total of 212 pardons during his eight years in office. On Jan. 17, he issued the final 64 pardons of his presidency. Here are some of the high-profile Americans whom Obama granted clemency to just before leaving office:
Ian Schrager
Schrager was a real estate developer and former co-owner of the famous New York City-based Studio 54. In 1980, he was convicted of federal tax evasion and sentenced to jail time. He's currently 70 years old. 
Willie McCovey
Obama also pardoned San Francisco Giants Hall of Famer Willie McCovey. In 1995, McCovey pleaded guilty to making and subscribing a false federal income return, Forbes reported. 
Duke Snider 
Obama offered a posthumous pardon to former Los Angeles Dodgers great Duke Snider. Like McCovey, Snider pleaded guilty to similar tax charges in 1995, according to Forbes. Snider died in 2011. 
James Cartwright
Obama pardoned James E. Cartwright, a retired Marine Corps general and former vice-chairman of the Joint Chiefs of Staff who pleaded guilty to lying to the FBI about his conversations with reporters about Iran's nuclear program. He was due to be sentenced this month. 
Below are the complete lists of those who were pardoned during Obama's time in office: