Trump's inaugural concert was a hodgepodge of acts including space robot dancers, Piano Guys & more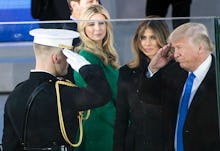 President-elect Donald Trump's inauguration concert got off to a funky start, with a hodgepodge of bands taking the stage, including DJ Ravidrums — an act that looked a lot like space robots rocking out.
Toby Keith has also aready taken the stage, but the lineup of rockers also includes 3 Doors Down, Sam Moore, the Piano Guys and a handful of military bands, TMZ reports.
Actor Jon Voight spoke at the concert, lauding Trump and claiming "God answered all our prayers."
Trump later took the stage to make his speech, assuring Americans "they are not forgotten anymore."
The concert was met with mixed reactions, with viewers from both sides taking to Twitter to express their opionins. Many were excited in the hours before Trump took the presidency.
But, almost an equal number of people were critical of it.
Trump's official swearing-in ceremony is tomrrow at 12 p.m. Eastern and will take place on the West Front of the U.S. Capitol. But the soon-to-be-president had a difficult time (to put it mildly) finding artists to perform at his inaugration. It seemed every time an artist was booked, they later cancelled in the face of backlash. Jennifer Holliday ditched her plans for the event and even apologized for her "lapse of judgement," while Elton John, John Legend, Dixie Chicks and a slew of over artists flat out refused to perform before even being asked.
Even still, Trump managed to secure 16-year-old Jackie Evancho for his inaugural ceremony, who defended her decision to perform despite the criticism that followed.