The very, very unofficial merch for sale outside the Trump inauguration concert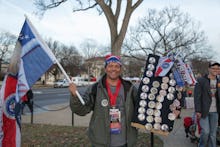 One way Donald Trump definitely dominated the 2016 election is in the merch department. Say what you want about his absurd overuse of his "Make America Great Again" slogan, but it made for a beloved hat. 
Yet, the official merch the Trump team put together during the election is nothing compared to what vendors had on display at the Make America Great Again! concert. The spread outside the concert featured an astounding amount of troll-worthy merch. 
One particularly shining gem: a shot of a belovable minion from Despicable Me sporting Donald Trump's hair with the slogan "Deplorable N' Chief," a reminagining of Hillary Clinton's now-infamous speech, describing Trump's supporters as a "basket of deplorables."
Quincy Ledbetter contributed reporting.