Donald Trump mouthing the words to 3 Doors Down is the internet's new nightmare fuel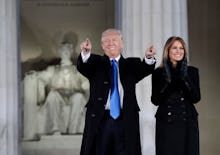 Donald Trump's Make America Great Again! celebration, his pre-inauguration concert taking place on the steps of the Lincoln Memorial, was every bit the lukewarm affair its leadup suggested it would be. 
Defined by its passionate struggle to lineup enough A-list talent to fill out its bill, it ended up a hodgepodge of performances — Toby Keith, Sam Moore, DJ Ravidrums and a bunch of dudes banging on a piano, cleverly calling themselves the Piano Guys — a blur of pretty good to mediocre performances. But for the internet, with the perverse pleasure it takes in personal and public embarassments, the event will undoubtedly be a source of memes for the ages.
As the fireworks slow and the smoke dissipates, one meme will likely reign supreme: a quick cutaway shot of Donald Trump mouthing the words to a song from early '00s rock band 3 Doors Down. 
The smile at the end added a cheeky touch to his momentary yodel. Making it even better: Melania's stone-faced scowl right beside him.
Twitter also had a bit of fun with the gif, synching the clip with audio of Smash Mouth's "All Star" to drag more pop rock icons into the nightmare.
The band's performance as a whole inspired some true savagery from the internet.
Get excited for the inauguration 2021. It really has nowhere to go but up. Watch 3 Doors Down perform "Kryptonite" below: