Michael Moore, Alec Baldwin, Cher and more speak at star-studded anti-Trump protest in NY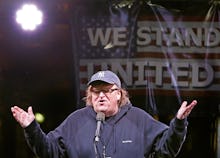 Donald Trump's inauguration ceremonies kicked off in Washington on Thursday evening. There were sets from 3 Doors Down and Toby Keith on the steps of the Lincoln Memorial, along with a fireworks display.
Meanwhile, Thursday in New York, filmmaker Michael Moore hosted an event of his own: an anti-inauguration celebration of resistance. Moore traded speeches with Alec Baldwin, Robert De Niro, Cher, Mark Ruffalo, Sally Field, Rev. Al Sharpton, Julianne Moore and Mayor Bill de Blasio — the kind of A-list stars a president-elect who has a fascination with ratings would love to have at his inauguration.
The stars discussed embarking on the "100 days of resistance" campaign Moore first discussed earlier this month, working to oppose the swift changes Trump may enact. Moore discussed how to protest the various pieces of legislation Trump promised in his campaign, such as his deportation force and Muslim registry.
"You don't have to quit your job, you don't have to drop out of school — it's just something very small you have to do," Moore said. "Every day, you have to contact your congressman or one of your two senators. Every day. It takes three minutes. Wake up, brush teeth, make coffee, contact Congress. The phone number is: 202-225-3121."
Alec Baldwin showed off a little of his Trump impression, talking about being cold and needing to pee but wanting to wait to head to a "function" at the Russian consulate where he'll take "the longest pee I've ever had in my lifetime." Then, speaking as Alec Baldwin, he spoke earnestly to parents about the next generation.
"They're never too young for you to start to teach them about what's going on here. They're never to young to teach them what a real America is, who wants full participation in and transparency of their government, and we've never been further away from that than we are now. These people are a disgrace."
Robert De Niro rattled off a series of one-liners and jabs mocking the tweets we might see from the president-elect tomorrow morning. He left with a sardonic sort of hope for the future.
"We're all rooting for the new administration to abandon the divisive, racist, misogynist, ignorant plans it's trumpeting and lead us with intelligence and compassion," he said. "Whatever happens, we Americans, we New Yorkers, we patriots will stand united for our rights and the rights of our fellow citizens."
Oscar winner and recording artist Cher spoke from the heart, introducing herself as "an 'elitest lib-tard' whose grandmother picked cotton, whose mother sang on bars when she was eight years old during the Depression."
She explained, "I want to tell you what I am so I can tell you what I believe. I'm 70 years old, I've lived through 12 presidents, and never once did I dream that there would be one so arrogant and ignorant and who could change the face of our world." 
Trump has yet to tweet about the protest, but judging by his past behavior in response to celebrity criticism, it's unlikely he'll ignore it.
Watch the full video from the protest below: