The #ThanksObamas hashtag will break your heart on Obama's last day in office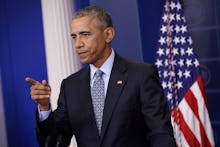 President Barack Obama has just a few hours left in the White House, and supporters far and wide are making sure to get in their last-minute thanks, posting heartbreaking messages of gratitude under the #ThanksObamas hashtag on Twitter.
Most took the time to praise the first family for being role models.
Some thanked him for fighting for policies that benefited their lives, including marriage equality.
Many others used the hashtag to admit they simply were not ready to say goodbye to the man who has been Commander in Chief for the past eight years.
Obama will be president until around noon Eastern on Monday, when President-elect Donald Trump takes the oath of office.