'Beaches' Lifetime Movie Premiere: When and where to watch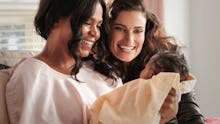 Lifetime has revamped the oldie-but-goodie flick Beaches, putting a 2017 spin on it in a remake starring Idina Menzel and Nia Long. The original dramatic comedy follows a special bond between C.C. Bloom and Hillary Whitney, two childhood friends who continue their relationship into their adult years. Menzel and Long take over for Bette Midler and Barbara Hershey, respectively
The Lifetime remake of the 1988 film will air Saturday.
Lifetime made a few changes to the new Beaches. In the original, C.C. and Hillary meet in New Jersey's Atlantic City. But in the TV film, the girls connect while playing on California's Venice Beach. C.C. is pursuing her singing dreams in Los Angeles. Hillary, who is the daughter of a civil rights attorney, is seeking to find her own path, according to the film's synopsis. One thing that hasn't changed: You may still need to grab your tissues. The trailer gives the vibe of a tearjerker.
When and where to watch
Beaches will air on Lifetime on Saturday at 8 p.m. Eastern. The TV-14 show is just over two hours long. Menzel also got in the studio and recreated the film's popular theme song "Wind Beneath My Wings," which you can listen to below.