'A Dog's Purpose' premiere canceled amid investigation of potential animal abuse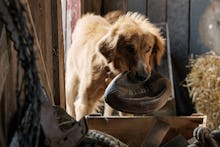 Variety is reporting that Universal Pictures and Amblin Entertainment have decided to cancel this weekend's premiere and press junket for A Dog's Purpose. This news follows the release of disturbing footage from the set of the film, where a German Shepherd was repeatedly forced into turbulent waters despite being visibly terrified. 
Following the release of the footage, PETA called for a boycott of the film, while American Humane, which had a representative on set, said it will be conducting an investigation into the incident. According to Variety, Universal Pictures and Amblin Entertainment released the following statement in regards to their decision to cancel the premiere and press junket. 
Since the emergence of the footage, Amblin has engaged with many associated with the production of the film, including safety personnel, trainers and stunt coordinators as part of their in-depth review. While we are all disheartened by the appearance of an animal in distress, everyone has assured us that Hercules the German Shepherd was not harmed throughout the filmmaking. We continue to support this film, are incredibly proud of it and will release it for audiences nationwide next Friday.
Despite canceling the Saturday premiere, Universal and Amblin remain committed to releasing A Dog's Purpose nationwide on Jan. 27. Along with PETA's call to boycott the film, many have taken to social media to advocate the same. 
A Dog's Purpose is based on the best-selling book of the same name, and stars Britt Robertson, KJ Apa, John Ortiz, Juliet Rylance, Luke Kirby, Peggy Lipton, Pooch Hall and Dennis Quaid, with Josh Gad providing the voice of Bailey, the dog. Following the release of the footage, Gad stated that he was "shaken and sad to see any animal put in a situation against its will."