Google Pixel XL vs. S7 Edge: Price, specs, features and everything else you should know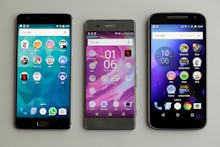 Debating between the Google Pixel XL and the Samsung Galaxy S7 edge? Samsung launched the Galaxy S7 edge in February 2016, while Google introduced its handset in October. Though the two smartphones are the same size, they differ in other ways. 
Here's how the phones fare against each other when it comes to several key features:
Google Pixel XL vs. S7 Edge: Size
Google offers two Pixel devices: the regular 5-inch model and a 5.5-inch XL version. The Samsung line is similar, with the Galaxy S7 featuring a 5.1-inch display and the S7 edge featuring a 5.5-inch screen.
Google Pixel XL vs. S7 Edge: Color
Google Pixel XL is available in three colors — Quite Black, Really Blue and Very Silver. The Galaxy S7 edge is available in Gold Platinum and Black Onyx.
Google Pixel XL vs. S7 Edge: Price
Google Pixel XL starts at $749; its smaller version, Google Pixel, starts at $649. The Galaxy S7 edge is slightly more expensive, with prices starting at $779.99.
Google Pixel XL vs. S7 Edge: Camera
Both Google Pixel smartphones feature a 12.3MP camera and a 8MP front-facing camera. According to Google, the devices sport the "highest-rated smartphone camera." By comparison, the Galaxy S7 edge includes a 12MP camera and a 5MP front-facing camera. According to Samsung, the S7 edge is the "world's first Dual Pixel smartphone camera and professional camera performance."
Google Pixel XL vs. S7 Edge: Water Resistance
Google Pixel is splash- and dust-resistant, while the Samsung Galaxy S7 edge is IP68 certified, which means it can withstand water submersion of 1.5 meters — or just short of 5 feet — for up to 30 minutes.
Google Pixel XL vs. S7 Edge: Digital Assistant
Google Pixel and Pixel XL are the first phones to have Google Assistant built-in. This digital assistant can search the internet, make restaurant reservations and much more, according to Google:
Find answers and get things done while on-the-go. Remind yourself to stop by the store, pull up your travel photos to show a friend and make a dinner reservation. No matter where you are or what's on the screen, say "OK Google" or touch and hold the Home button to get help from your Assistant.
Google Pixel XL vs. S7 Edge: Operating System
Google Pixel devices come with Nougat, the most recent operating system for Android phones. Since first releasing Android Nougat 7.0, Google issued an update: Android Nougat 7.1.1. Google Pixel XL owners will receive this update, too. 
Samsung Galaxy S7 edge owners will also get Android Nougat — Samsung initiated its official rollout Tuesday — but the 7.0 version only.