'Overwatch' Year of the Rooster Skins Rumor: More Chinese New Year details may have leaked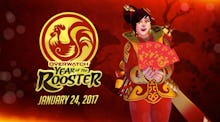 It just wouldn't be an Overwatch seasonal event without some swanky skins leaking on Reddit ahead of time, would it? Well, the trend appears to continue for the Chinese New Year-themed Year of the Rooster event launching Tuesday.
An image posted to Reddit appears to show Journey to the West-themed skins for Zenyatta, Reinhardt, Roadhog and Winston.
Overwatch Year of the Rooster Skins: New images seemingly leak on Reddit
On Reddit, hythl0day posted what is claimed to be an ad that "some Chinese player accidentally found" for the upcoming event — so, take this with a big ol' grain of salt.
According to the Reddit post, the ad — which appears to have come from Gewara, an online movie ticket company like Fandango — shows skins that are based on characters from Journey to the West, a classic Chinese novel written in the 16th century.
Here are the characters hythl0day said the skins are based on:
Zenyatta's Tang Sanzang skin. (Sun Wukong's Buddhism master)
The idea that Winston's skin could be based on the Monkey King has some merit. An older Reddit post theorized he'd be getting a Monkey King skin based on a sketch they saw on the Ecopoint: Antarctica map. Mei's and D.Va's Year of the Rooster skins appear to have been teased through their Winter Wonderland ornament sprays, so to think that other skins have been teased elsewhere isn't too much of a stretch.
Overwatch Year of the Rooster event end date: How long will it last?
You also may have noticed that the bottom of the ad appears to indicate a date range of Jan. 24 to 31. According to the Reddit post, the text above it translates to "free trial," but it's unclear if this means the event itself will only last one week or if there's some kind of promotion offering a free one-week trial of Overwatch itself during a portion of the event.
Again, it's important to note that all of this could just be a fan-made hoax. Until Blizzard officially announces the details of the event, it's best to treat all this as speculation and nothing more.
Mic is in the process of independently verifying the translation of the text and will update this post when the work is complete.
More Overwatch news, updates, tips and tricks
For more on Overwatch, check out the rest of what Mic has to offer. Here is a full explanation of the different types of health in Overwatch, the latest rumor of a Terry Crews-voiced Overwatch character, an update on that Mei ice wall exploit, a hilarious video of a play of the game involving the jump pad on Oasis, a roundup of the best Overwatch plays of the week, our definitive ranking of every Overwatch hero and a giant Overwatch FAQ for beginners.