Zoe Saldana wants to give Donald Trump "the respect he deserves"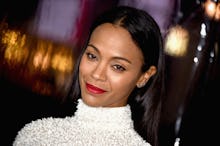 Zoe Saldana, famously known for playing an all-blue character in Avatar and an all-green character in Guardians of the Galaxy, is now throwing her support behind Donald Trump. 
Appearing on Al Punto, a Spanish-language program hosted by Univision's Jorge Ramos, the actress offered words of support for Trump, set to take the oath of office on Friday. 
"I have faith in [Trump] because he is my nation's president," the actress said in Spanish. "I wasn't raised to choose one person over the other. I was raised to be an American. To do my duty and offer my respect to America. Therefore, I will give him my respect, the respect he deserves, until the other shoe drops, as we Dominicans would say." 
According to the Huffington Post, Ramos then pushed Saldana to address her earlier comments saying she'd move out of the country if Trump were elected. Saldana backtracked on those comments. 
"I think I have to wait and see when things start happening," Saldana responded. 
Saldana's remarks come shortly after she accused Hollywood of bullying the president-elect. 
"We got cocky and became arrogant and we also became bullies," Saldana previously said of Trump.  
After the election, Saldana tweeted out (also in Spanish): 
"We are better than this, America. We will keep moving forward and we will win as a country. A president does not define the country!"
Ironically, Saldana delivered her Spanish-language remarks to Ramos, who Trump infamously threw out of a press conference in August 2015. Trump later made an "anchor baby" joke when offering Jorge Ramos an interview. 
Saldana has had a controversial year prior to her presidential comments. Saldana's Nina Simone biopic was released in 2016 and many accused the actress of acting in blackface when they peeped the layers of makeup she caked on for the role.