What will happen in 'The Librarians' season 3 finale?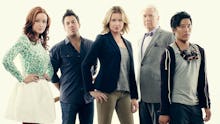 TNT's The Librarians, a spin-off the The Librarian film series, will air its season three finale on Sunday at 8 p.m. Eastern. The series follows Eve Baird, played by X-Men's Rebecca Romijn, and her intrepid band of colleagues who together fight supernatural threats. 
Noah Wyle, who starred as Flynn Carsen in the film franchise, reprises his role on the TV series on a recurring basis, and will appear in Sunday's finale. This comes on the heels of Wyle directing two episodes this season, as well as writing one installment. 
You can check out the synopsis and promo for the season three finale, titled, "And the Wrath of Chaos," below:
The Librarians' two-front battle comes to a head when the Library is simultaneously infiltrated by DOSA and Apep. Flynn, Baird, Stone, Cassandra, Ezekiel and Jenkins must all put aside their differences in an attempt to save the Library, the world and themselves.