'Beaches' Lifetime movie premiere date, plot details, cast and more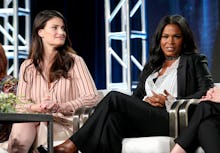 Beaches, the popular 1988 film starring Bette Midler and Barbara Hershey, is returning as a brand new TV movie on Lifetime this Saturday. 
The dramatic comedy about two childhood friends who keep a solid bond through life's ups and downs has received a 2017 makeover with a new cast and a slightly different plot. From the looks of the trailer it might be a tearjerker, so have a box of tissues on hand. Here are some more important details about the world premiere of Lifetime's Beaches.
Premiere date 
Beaches airs on Lifetime Saturday, Jan. 21 at 8 p.m. Eastern and lasts 120 minutes. It is rated TV-14.
Plot details
In the first Beaches, CC and Hillary met in New Jersey's Atlantic City. The reboot takes us from east to west coast and begins the storyline with CC and Hillary forming a friendship at the Venice Beach boardwalk in Los Angeles. 
As adults, the women continue to have a tight bond although they live in two different worlds. CC is chasing her singing dreams and finally gets her first big break. Meanwhile, Hillary is looking to find her own path as the daughter of a prominent civil rights attorney, but has a new beginning after giving birth to a new baby; CC is right by her side.
Cast
Tony Award-winning Idina Menzel and NAACP award-winning Nia Long take over the roles of CC Bloom and Hillary. Menzel, who is known for singing the Oscar-winning Frozen theme song, went in to the studio to recreate the classic Beaches theme song "Wind Beneath My Wings" for the film. 
Long, who has appeared on dozens of primetime TV shows and movies, is known for her memorable roles in the The Best Man movie series, Love Jones and Soul Food. Also joining the cast is Grace Capeless as young Hillary and Gabriella Pizzolo as young CC. The two girls are real-life friends according to the movie's website.
Beaches after-party
If you can't get enough of the movie, Long and Menzel will be joined by Capeless and Pizzolo for the Beaches after-party, which airs right after the TV movie. The women and girls will talk about female friendships and meet their own real-life best friends on the show.