Which Bible is Donald Trump using at his inauguration? Actually, he has 2.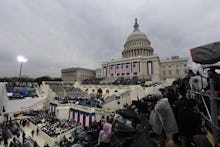 When Donald Trump takes the oath of office at noon Eastern, he'll be sworn in with two Bibles that represent the histories of America and Trump himself. 
The incoming president's choice of Bible for their swearing-in ceremony has become symbolic. President Barack Obama used a Bible belonging to Martin Luther King Jr. at his 2013 inauguration, which took place on MLK Day. President John F. Kennedy was sworn in with a Catholic Douay Bible when he became the first Catholic president in 1961. Some presidents choose to not even use a Bible at all: John Quincy Adams was sworn in using a law book.
For his inauguration, Trump will be sworn in with both the Bible that his mother gave him in 1955, and the Bible that President Abraham Lincoln was sworn in with in 1861.
"In his first inaugural address, President Lincoln appealed to the 'better angels of our nature,'" Presidential Inauguration Committee Chairman Tom Barrack said in a statement. "As he takes the same oath of office 156 years later, President-elect Trump is humbled to place his hand on Bibles that hold special meaning both to his family and to our country."
Trump's personal Bible was a gift from his mother following his graduation from Sunday Church Primary School in Jamaica, New York, the statement explains. Trump displayed the Bible in a Facebook video in January 2016, in which he thanked Evangelical Christians for their support of his campaign.
The second Bible was purchased for the purpose of Lincoln's inauguration and is currently held by the Library of Congress, the inaugural committee's statement notes. In addition to Lincoln's first inauguration in 1861, the Bible was used for both of President Obama's inaugurations in 2009 and 2013.
Trump praised Lincoln in an interview with the Washington Post in April 2016, commenting:
Well, I think Lincoln succeeded for numerous reasons. He was a man who was of great intelligence, which most presidents would be. But he was a man of great intelligence, but he was also a man that did something that was a very vital thing to do at that time. Ten years before or 20 years before, what he was doing would never have even been thought possible. So he did something that was a very important thing to do, and especially at that time.
While the choice to use the same Bible as Lincoln, the president who ended slavery, made sense for Obama, the first African-American president, the symbolism is less clear for Trump. 
Lincoln's inaugural address, in fact, was turned against Trump by Arnold Schwarzenegger. The former California governor recorded a Twitter video to Trump quoting Lincoln's inaugural speech after Trump insulted Schwarzenegger on Twitter following his Celebrity Apprentice debut.
"We are not enemies, but friends," Lincoln said in his inaugural address, as Schwarzenegger reminded Trump. "We must not be enemies. Though passion may have strained it must not break our bonds of affection. The mystic chords of memory, stretching from every battlefield and patriot grave to every living heart and hearthstone all over this broad land, will yet swell the chorus of the Union, when again touched, as surely they will be, by the better angels of our nature."