'Injustice 2' Beta Registration: Sign up online to play the game early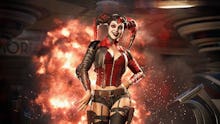 After 2016's Batman v. Superman: Dawn of Justice polluted thousands of silver screens with its bloated, overstuffed garbage, we need a hard reset on D.C. Comics superhero clashes. Enter Injustice 2, the newest game from the developers of Mortal Kombat.
Superman, Batman, Wonder Woman and others will take each other on in the sequel to the 2013 original. It's a one-on-one fighting game with bombastic finisher moves and the ability to use objects in the environment against your opponent.
We still don't know everything that happens in its story or which characters will join the fray, but we do know that you can play it before its May 16 release date.
Injustice 2 beta registration: How to sign up to play
You can sign up for an online Injustice 2 beta on the game's official website. It's as easy as giving an email address, a name and a preferred platform between PS4 and Xbox One. We assume that at some point in the near future, you will get an email with a download code for the beta on your platform of choice.
Unfortunately, the beta signup page is light on any real information. We don't know yet when the beta starts, how long it lasts, what features it includes or how many players will be accepted. As soon as more information is available, Mic will keep you posted.
More gaming news and update
Mic has all the latest gaming news, including information on Nintendo Switch indie games, hands-on impressions of the Switch and what you get with the special edition of The Legend of Zelda: Breath of the Wild.