Will Netflix's 'Frontier' get a season 2? Here's what we know.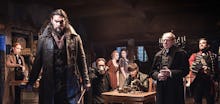 If you're looking for a new Netflix series to binge, you're in luck. The streaming platform has now released all six episodes from the first season of Frontier. The series, which is co-produced by Discovery Canada and stars Justice League and Game of Thrones actor Jason Momoa, explores the violent North American fur trade in the 18th century. 
Early responses to the new series are largely negative, but if you find yourself hooked, don't fret. Long before the poor reviews started trickling in, Netflix announced it was renewing the show for a second season. 
It's possible there is a disconnect between the critics and average fans when it comes to Frontier. While the series currently holds a 29% on Rotten Tomatoes, as of this writing, Frontier has 4.5 stars from users on Netflix. 
The series synopsis reads as follows: "In 18th-century North America, ruthless trappers and entrepreneurs fight to wrest control of the fur trade from the mighty Hudson's Bay Company."
All episodes of Frontier's first season are now streaming on Netflix.