Kristen Stewart co-authored a research paper on AI because she contains multitudes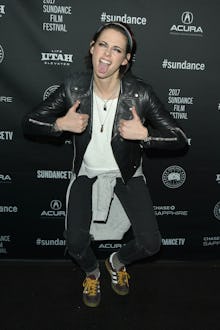 Kristen Stewart is still far from being considered a venerable actress thanks to her work in the Twilight franchise, despite a quietly impressive series of indie films that ultimately led to winning a French Oscar, the Cesar award. But if that Hollywood thing doesn't pan out, Stewart could always pursue a career in academia. Yes, really. 
Stewart has co-authored a research paper — posted in Cornell University's online research repository before it is, theoretically, peer reviewed — that examines "neural style transfer." The technique, used in accordance with her screenwriting and directorial debut in the short film Come Short — which premiered at Sundance Film Festival Thursday — uses a machine to render an image in a different artistic style and schemes. She worked on the paper alongside David Shapiro, a producer from the film, and Adobe research engineer Bhautik J. Joshi. 
The AI in the paper used scenes from Come Swim to produce its own frames, one of which can be seen below. 
"Far from being automatic, neural style transfer requires many creative iterations when trying to work towards a specific look for a shot," the paper reads. "The parameter space is very large — careful, structured guidance through this in collaboration with the creative leads on the project is needed to steer it towards a repeatable, visually pleasing result." 
While this is far from the only academic pursuit that converges A.I. and art — Google's done their own research, and an A.I. even produced a very choppy but entertaining sci-fi script that was made into a trailer — Stewart's involvement had the academic Twitterverse take note. 
Read Stewart's co-authored paper, "Bringing Impressionism to Life with Neural Style Transfer in Come Swim," here.