Side-by-side photos of Trump's inauguration crowds versus Obama's really say it all, don't they?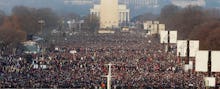 Donald Trump promised "unbelievable, perhaps record-setting turnout" for his inauguration. 
While that claim will be difficult to verify, as the National Park Service no longer gives official attendance estimates, it certainly appears that he failed to draw the massive crowd Barack Obama did for his historic first inauguration in 2009.
Here area side-by-side photos comparing the audience at the 2009 inauguration with the 2017 inauguration:
More than 1.8 million people were in attendance for Obama's first inauguration. An additional 37.8 million people watched at home – the largest TV audience for an inauguration since Ronald Reagan's in 1981.
By contrast, Trump was only expected to draw between 800,000 and 900,000.
Trump's inaugural concert on Thursday also appeared to draw less than Obama's, which had over 400,000 people in attendance in 2009. 
Twitter users took notice of Trump's not so "yuuuge" crowds – and the demographics of those who did turn out.