Here's what Donald Trump just signed on his first official day as president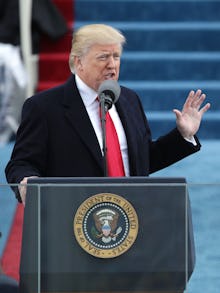 Shortly after taking the oath of office, President Donald Trump took his first actions as commander in chief, signing official nominating papers for his cabinet picks and signing a proclamation for a national day of patriotism.
Later in the day, following the inaugural parade, Trump signed two executive orders, one on "freezing regulations" and the other to "ease the burden" of the Affordable Care Act.
Trump's ACA order is vague, giving permission to the secretary of the Department of Health and Human Services to "waive, defer, grant exemptions from, or delay the implementation of any provision or requirement of the Act that would impose a fiscal burden."
Right after he took the oath of office, one of the first documents he signed was a waiver to allow retired Gen. James Mattis to serve as secretary of defense. 
Rules currently state that the secretary of defense must be retired from the military for at least seven years before being allowed to serve in the role.
But Congress granted Mattis, who retired in 2013, a waiver to allow him to serve.