GMO apples that never turn brown could soon hit shelves in the US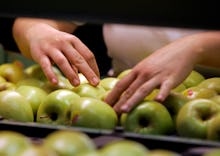 Apples already come in red, yellow and green varieties, but a new genetically modified variety set to crop up in stores next month will most definitely not be one color: brown.
According to a CNN report, Okanagan Specialty Fruits in British Columbia plans to roll out a new brand of sliced and packaged Golden Delicious apples that don't go brown when sliced.
Okanagan describes the draw of non-browning Arctic brand apples on its website as being "more appealing and convenient" for consumers.
"[T]he simple convenience of being able to slice apples without worrying about browning can lead to more getting eaten, and fewer getting trashed," the site proclaims.
The GMO fruits are scheduled to begin appearing on shelves at ten preselected stores in the Midwest as early as February and March, the company's founder and president Neal Carter told the Capital Press.
"We're very optimistic with respect to this product because people love it at trade shows," Carter said. "It's a great product and the eating quality is excellent."
Along with their increased visual appeal, the Arctic brand apples are allegedly crisper and more packed with antioxidants than their browning varieties. 
The saying goes "the apple doesn't fall far from the tree", but if GMO scientists keep it up, maybe someday we won't even need the tree.