Donald Trump vows to usher in new era of "America first" in inauguration speech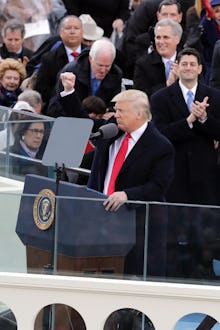 President Donald Trump delivered a fiercely nationalistic inaugural address Friday, vowing that "from this day forward, it's going to be only America first."
"Jan. 20, 2017 will be remembered as the day the people became the rulers of this nation again," Trump said. "The forgotten people of this country will be forgotten no longer."
Trump painted a dire image of America, talking about poverty and crime in inner cities and "rusted out factories. He promised that the "American carnage stops right here and stops right now."
He promised that America will spend more money fix crumbling infrastructure, saying, "We've made other countries rich while the wealth, strength and confidence of our country has dissipated over the horizon."
He also vowed to "eradicate radical Islamic terrorism" from the face of the earth, a line that received loud cheers from the crowd.
Trump's transition team said Trump wrote the speech himself, posting a now-infamous photo of himself appearing to write the address on a notepad with a sharpie at his Mar-a-Lago estate in Florida.
Rain fell throughout the morning as invited guests, spectators and large groups of protesters descended upon the U.S. Capitol and National Mall, where Trump was sworn in on the Capitol steps.
Crowds were noticably thinner than President Barack Obama's historic inauguration in 2009.
The Trump supporters who did show up, however, were rowdy, booing Democratic figures on stage, especially former Secretary of State Hillary Clinton — who attended the inauguration out of respect for a peaceful transition of power.
When Clinton was announced, Trump supporters in the crowd chanted "lock her up," a reference to the grim chant that echoed throughout Trump rallies during the election. 
Many people who did show up, however, were protesters, large swaths of whom sought to block entrances to the Mall for pro-Trump spectators. 
Trump will now have lunch in the Capitol with a bipartisan group of members of Congress. 
Following lunch, he'll get back in his motorcade to drive down Pennsylvania Avenue along the parade route, which ends back at the White House. There, he will take in the parade with his family. 
Celeste Katz provided reporting from Washington, D.C.