Kellyanne Conway's Inauguration Day Outfit: Trump campaign manager wears $3,600 Gucci coat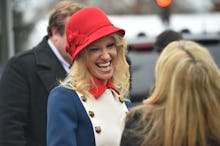 So far, the clothes people have opted to wear on Inauguration Day aren't all that surprising. Melania Trump's donning a powder blue dress. Michelle Obama opted for a power red dress. 
But then, well, Kellyanne Conway waltzed into the picture wearing a $3,600 Gucci a-line coat.
Conway, if you didn't already know, served as Donald Trump's campaign manager — so, naturally, she's super stoked about Inauguration Day. We just didn't expect her to express her joy quite like this: 
Conway showed up to the inauguration festivities not dressed like Uncle Sam, but more like Aunt Sam. According to Time, she referred to the red, white and blue coat as "Trump Revolutionary wear."
And over on Twitter, the memes have already begun. 
This is truly Revolutionary War chic:
She kind of looked Napoleonic, too:
And, maybe, a bit like a nutcracker?
That jacket and bucket hat was like looking back in time:
She also looks not dissimilar to Paddington Bear. (Not that there's anything wrong with that, of course. Dude was stylish.)
Oh, and the coat had cat buttons: 
So, anyway, a big thank you to Conway for making fashion a bit more interesting on this historic day — and giving Twitter meme gold.