Trump Inauguration Video: Watch the full swearing-in ceremony here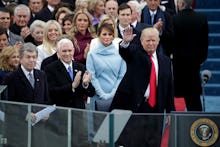 It's official: Donald Trump is now the president of the United States. Despite his historically low approval ratings, potentially unconstitutional business conflicts and the ongoing FBI investigation into his Russian ties, Trump took the oath of office at noon Eastern and is now the holder of the highest office in the land.
During the swearing-in ceremony, which took place outside the U.S. Capitol, Trump was sworn-in by Supreme Court Chief Justice John Roberts using both a personal Bible that was given to him by his mother and the one used by President Abraham Lincoln during his first inauguration in 1861. 
Following the swearing-in, Trump delivered his inaugural address, during which he declared Friday as "the day the people became the rulers of this nation again." 
"The forgotten men and women of our country will be forgotten no longer," he said.
In addition to Trump's speech, the swearing-in ceremony also included performances by the U.S. Marine Band, the Missouri State University Chorale, the Mormon Tabernacle Choir, and former America's Got Talent runner-up, Jackie Evancho, who sang the National Anthem.
Missouri Sen. Roy Blunt delivered the call to order during the ceremony, which also included remarks and prayers by six religious leaders: Cardinal Timothy Dolan, Reverend Dr. Samuel Rodriguez, Pastor Paula White, Rabbi Marvin Hier, Reverend Franklin Graham and Bishop Wayne T. Jackson.
Among the speakers at the swearing-in ceremony was Senate Minority Leader Sen. Chuck Schumer, who emphasized the importance of democracy. "I stand here today confident in this great country for one reason: you, the American people," Schumer said in his remarks.
Mike Pence was also sworn in as vice president by Supreme Court Justice Clarence Thomas, who became the first African-American to administer the oath of office. Pence was sworn in using the same Bible as President Ronald Reagan.
You can watch the entire swearing-in ceremony below: