'Black-ish' spinoff focused on daughter Zoey being considered at ABC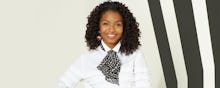 Black-ish creator Kenya Barris may be heading up a spinoff of his Peabody Award-winning comedy for ABC. According to TVLine, the new series will focus on Zoey Johnson, the daughter played by Minnesota native Yara Shahidi, and her adventures at college. 
What we know
We don't have much information about the spinoff as of yet, but we do know that it's possible that ABC will air the pilot as early as later this year. However, Deadline writer Nellie Andreeva reported that talks for the spinoff are in such early stages that there are no scripts or deals in place as of yet.
If the spinoff premise sounds strangely familiar, Refinery29 writer Erin Donnelly reminded readers that, well, it is. In fact, it's the same premise as A Different World, the Cosby Show spinoff that ran from 1987 to 1993. In that show, Denise Huxtable studied at a fictional historically black college, but the actress, Lisa Bonet, only lasted one season because she got pregnant. 
Vulture writer Karen Brill said the spinoff would be a smart move for the Black-ish franchise. She wrote:
"Were it to come to fruition, the spinoff would kill two birds with one stone, stemming off the awkwardness of how to keep a college-bound kid on a family sitcom (we're looking at you, Modern Family), while also helping to end the drought of college-set series (A Different World, indeed)."
America is always ready for a smart sitcom led by a young woman of color, but on-screen diversity in the Trump era is especially important. Make it happen, ABC.