What will Trump's first 100 days look like — and how will it affect you?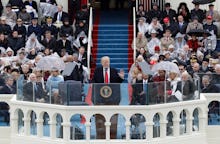 Back in October, Donald Trump released his "Contract With the American Voter" – his "100-day action plan to make America great again."
In it, he proposed measures to "clean up corruption" in Washington, D.C., "protect American workers" and "restore security and the constitutional rule of law" – which he said his administration would begin pushing on his first day in office.
That day, of course, has arrived: Trump began his term Friday, and in his fiery, nationalistic inaugural address, he echoed that plan, promising to make the people the "rulers of this nation again," put "America first" and end "American carnage."
What can he do in the first 100 days?
Trump's 100-day action plan is a mix of executive orders, legislative proposals and more abstract plans. As such, it's unclear what of the "contract" he'll be able to make good on in 100 days.
His banner plan to repeal and replace Obamacare, for instance, will have to go through the House and Senate; though the Republicans control both houses, legislation can be a lengthy process.
But other plans can be enacted by Trump's presidential pen. He can end the Obama administration's Deferred Action for Childhood Arrivals program, direct the building of his border wall and restrict immigration from Muslim countries through executive orders. He can also approve the Dakota Access pipeline and lift climate change-related regulations instituted by the Obama administration.
What does that mean for you?
Trump, with the help of an emboldened Republican party, will likely reverse many Obama-era policies on key issues like immigration, healthcare and climate change.
But the Trump administration also represents a tonal shift from the Obama administration. Already, the official White House page has disappeared civil rights, climate change, health care and other topics from its "issues" page. The new president has attacked groups and individual citizens. He also enters office with significant questions about his ability to lead; he is the only president with no prior government or military experience, continues to rant regularly on Twitter and has myriad outstanding conflicts of interest. Trump's dark rhetoric also sharply contrasts with Obama's message of "hope."
Trump signed some minor executive orders, including establishing a National Day of Patriotism on Sept. 11, after being sworn in Friday. New White House Press Secretary Sean Spicer said Trump plans to sign more executive actions over the weekend and into next week.