People are eating Mexican food on Inauguration Day for very different reasons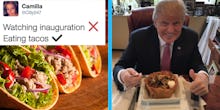 When you're happy and you know it, eat a taco. When you're mad and you  know it, eat a taco?
Mexican food may be a great unifier for the American people during Donald Trump's Inauguration on Friday. While the election was one of the country's most divisive, people from all parts of the political spectrum said on Twitter that they would be ringing in the new president with some Mexican food. (Which, as it turns out, is a $38 billion industry in the U.S.) 
Some will choose Mexican food as a symbolic nod to support all Americans and resist Trump's anti-immigrant agenda. Others will chow down on Mexican fare solely for its flavor — disassociating the food from the country of origin and its people. 
"Everyone hates Mexicans, but everyone at the same time loves Mexican food," Gustavo Arellano, the author of Taco USA: How Mexican Food Conquered America, told the Huffington Post when asked about Trump supporters who like Mexican food. "When they're eating it, they're able to disassociate it from the people who made it, or who picked it or slaughtered those cows."
It's unclear if the soft spot Trump's anti-immigration supporters have for Mexican food will ever influence their thoughts on immigrants, many of whom work in the restaurant industry.
Below, a few examples of people celebrating the swearing-in ceremony with Mexican eats: 
And yet, again, for others, Mexican cuisine isn't a celebratory meal today — it's being used as a symbol of mourning, and as one of support for communities threatened by the impending Trump presidency. 
Trump himself is a fan of Mexican food, tweeting that he "loves Hispanics" on Cinco de Mayo last year. 
One restaurant group in Atlanta created a special inauguration menu dubbed "Bad Hombres" to show support for communities threatened by Trump's anti-immigration stance, Eater reported. Customers can enjoy tacos, Mexican burgers and other Mexican-inspired fare at The General Muir, West Egg Cafe, Yalla and Fred's Meat and Bread.
"We chose Mexican food as being symbolic of this culture of inclusion," Ben Johnson, co-owner of the restaurants, told Eater.  "It is a group demonized early and often during the presidential campaign. These are our colleagues and our friends. Plus, some of the best Mexican food in the city is not served out front to the public but is shared in the back of the restaurant during family meal... We will stand together on Friday and celebrate an America for all of us."