Dwayne Johnson to star as DC's Black Adam in solo film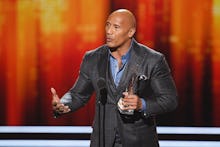 "Shazam!" 
That is not only the word Billy Batson yells to transform into DC's hero of the same name (formerly Captain Marvel), but also what Dwayne Johnson's fans are screaming in excitement. Why? Deadline has confirmed that Johnson will star as Shazam's archenemy, Black Adam, in a new solo film. This will be in addition to the previously announced Shazam!
Johnson has been attached to star as Black Adam in Shazam! since New Line announced the film in 2014. But now, it appears that the studio is looking to double-down on Johnson, beginning plans for a solo Black Adam spin-off as well. The announcement comes nearly a week after Johnson met with DC executives to discuss his involvement with the franchise. 
Following his meeting, Johnson tweeted his thrill over getting to work as Black Adam. And it appears DC is just as excited and looking to capitalize on Johnson's immense popularity. 
Black Adam cheat sheet
While you may not be familiar with the name Black Adam, the character has appeared in comics for over 70 years, originally for Fawcett Comics and later DC, after the latter purchased all Shazam!-related properties. Black Adam is traditionally positioned as a villain, and Shazam's most dangerous adversary, but expect to see a different Black Adam in the movies. 
Recently,  Black Adam has become more of an antihero, which is likely how he will be portrayed in the Johnson-starring solo film. The character has tremendous magical powers, which he normally utilizes in a ruthless attempt to rule the world. 
If you are curious what Johnson might look like as Black Adam, BossLogic has tweeted out several awesome concept images. 
Mic has ongoing coverage of DC Comics. Please follow our main DC Comics hub here.