Michelle Obama's expression on Inauguration Day speaks volumes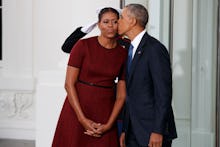 It's hard to deny that Donald Trump's ascension to the presidency has been punctuated with its fair share of, well, uncomfortable moments. 
Remember when, immediately following Trump's victory, outgoing President Barack Obama had to shake hands with the man who fueled the birther movement? It was awkward. On Friday, Obama had to do the same, welcoming Trump to his new digs, sharing a limousine with him and, ya know, relinquishing all power to him. 
And we got to watch it all unfold. 
Thankfully, there's Michelle Obama, who can convey the existential dread many Americans are feeling with a single glance. Or, at least, that's the impression Twitter users got when Michelle greeted incoming first lady Melania Trump.
The moment was made more awkward by the fact of a Tiffany-blue box Melania gifted to Michelle. 
There's no word on whether it's traditional for the incoming first lady to bring a gift on Inauguration Day, but judging by Michelle's expression, she certainly wasn't expecting it. And she sure as hell didn't know what to do with it before posing for a photo op with the Trumps. 
The events called to mind the moment Little Miss Flint could manage only an expression of horror when appearing in a photo alongside Trump during his campaign.