Jackie Evancho's inauguration performance was a downgrade, according to the internet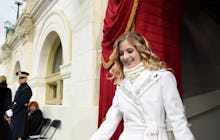 There was a mix of hilarious reactions on Twitter to Jackie Evancho's singing of the national anthem at President Donald Trump's swearing-in ceremony Friday. Some chiming in said Evancho could not touch past inauguration performers Aretha Franklin, Kelly Clarkson and Beyoncé. 
But others praised the 16-year-old for singing live and shamed Bey for lip-syncing at the inauguration in 2013. Trump told Evancho "great job," after her rendition of "The Star-Spangled Banner" performance, but here is how the people felt about it.
Naysayers thought Evancho was a downgrade:
Meanwhile, Evancho fans brought up the old Beyoncé lip-sync criticisms. After the backlash in 2013, the singer admitted to using a pre-recorded track because she did not have time to rehearse with the orchestra that was backing her.  
In December, Jackie Evancho announced that she would be performing the national anthem at President Donald Trump's inauguration ceremony. The 16-year-old former America's Got Talent singer's decision received almost immediate backlash, but she continued to defend herself against naysayers throughout the lead-up to the inauguration.
"I just kind of thought that this is for my country," she told the New York Times in an interview. "So if people are going to hate on me it's for the wrong reason." 
She came under fire as well because of her older sister Juliet, who is transgender. Many of Evancho's critics called her decision hypocritical, considering members of Trump's administration, particularly Vice President Mike Pence, have not worked to uphold the human rights of LGBTQ Americans in the past.
Friday's inauguration isn't the first time Evancho sang for political events in Washington, D.C. She performed "God Bless America" on July 4 at the U.S. Capitol last year and performed for former President Barack Obama at the National Prayer Breakfast in 2012.